883 Raku Amethyst
Spectrum's 850 Raku Glaze Series can be fired in both electric and gas kilns and are available in a variety of unique colors. These glazes will allow you to create exciting and amazing effects!
Article number:
883 Pt
Availability:

In stock

(3)
Spectrum's Raku glazes are all lead-free and require a Raku firing process to achieve the results shown. Pieces are fired to 1750 degrees F (950 degrees C). While still red hot, the glazed piece should be transferred into a reduction bin; commonly a small sealable metal container containing organic material The bin should then be closed and the piece allowed to cool before removing and cleaning it.
Raku firings typically produce very variable results, so the test tiles are only provided as approximations. We recommend testing all glazes first.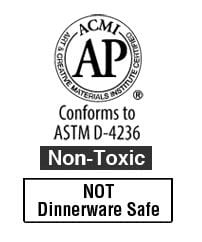 Create exciting and amazing effects.
Brush-on application.
Formulated for Raku firing.
Click here for the downloadable Spectrum 850 Series Colour Chart.
Note: 1 Gallon size is available for special order through our website (we do not stock). Delivery timeframe is approximately 2 weeks. Product and shipping are to be paid at time of order. 5 Gallon Pails are also available for many Spectrum glazes, contact us for ordering details. At this time we do not take backorders for Pint sizes (must be in stock to order).
The following glazes in this series are non-toxic and lead-free:
850, 851, 854, 856, 871, 872, 873, 874, 875, 877, 878
The remainder of the Raku glazes are lead-free, but exceed the threshold limit for copper and are, therefore, not non-toxic in the liquid state. these glazes are not food safe.
WARNING: When red hot pieces go into the bin, the organic material ignites and will produce flames and smoke. This part of the firing, particularly the opening of the reduction bin, should be done outside. Always take safety precautions when firing raku such as the use of high temperature gloves, protective eyewear, and a respirator. Always have a fire extinguisher handy.
0
stars based on
0
reviews