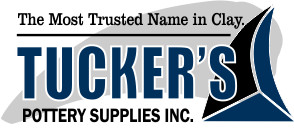 A great all-purpose pop-up sponge made of an open cell material that is very absorbent. Shaped like a potters rib to fit comfortably in the palm of your hand.
This sponge is excellent for finishing work, final detail and clean-up of surfaces and won't pull out grog or other materials in the clay body. Think of it like a chamois sponge.
The Orange Absorbent pop-up sponge is the perfect throwing sponge. More absorbent than the White Finishing and the Blue Workhorse, it is the sponge Michael Sherrill uses for throwing.