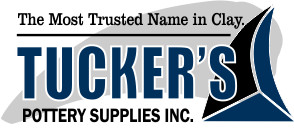 Tucker's White Sculpture Raku is a coarse handbuilding clay which was originally designed for large sculptures. It contains 25% of 35 mesh grog so it is suitable for pieces with large cross sections.
Tucker's Smooth Raku is an excellent throwing body designed to withstand the stresses of Raku. This light firing clay body is also useful for handbuilding and sculpting larger pieces.
Tucker's Thompson Raku is designed primarily as a raku body. A very workable body, Thompson Raku contains 20% 35 mesh grog to aid in construction and to help withstand thermal shock.