1437 Floating Celadon
Spectrum Floating Glazes are reactive mid-fire glazes that create glossy, multi-tone, multi-color decorative effects on pottery pieces. When fired, they give the appearance of one color "floating" on top of another color.
Availability:
In stock

(1)
Spectrum's line of Cone 4-6 Floating Glazes are all lead-free and dinnerware safe. They require 2-3 coats for full coverage. Floating glazes is in no way a technical term, the series was named after it's appearance where one color appears to float above another without requiring the need to layer multiple glazes together.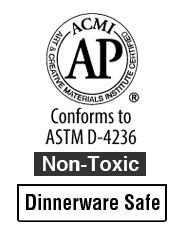 Achieve multi-tone and colour from one glaze.
Samples are shown at Cone 5.
Changes in temperature can produce variations on the appearance.
The final appearance of the glaze is dependent on firing temperature, glaze thickness and the composition of the clay body being used, samples shown to Cone 5. Try overlapping glazes for new and interesting glaze results. Some of Spectrum Glazes are designed to move and shift in the glaze firing resulting in beautifully bright and layered looks. Please read the label on each glaze for application instructions.
Click here for the downloadable Spectrum 1400 Floating Series Colour Chart.
Note: 1 Gallon size is available for special order through our website (we do not stock). Delivery timeframe is approximately 2 weeks. Product and shipping are to be paid at time of order. 10lbs Dry and 5 Gallon Pails are also available for most Spectrum glazes, contact us for ordering details. At this time we do not take backorders for Pint sizes (must be in stock to order).
0
stars based on
0
reviews