1405 Shino Blue Oyster
Intended to capture the rich, variegated surfaces of shino glazes, but designed to be fired in your electric kiln, Spectrum's Cone 4/6 Shino glazes are all lead-free and dinnerware safe.
Article number:
1405 pint
Availability:

In stock

(7)
Add some richness to your current studio glaze line-up with Spectrum's line of Cone 4/6 Shino glazes.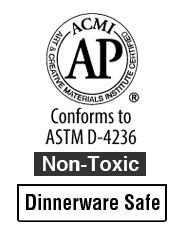 Mimics the richness of traditional Shino glazes with beautiful multi-tonal satin finishes.
Recommended to fire to Cone 5/6
At Cone 5 Spectrum's Shinos produce a satiny matte finish, when fired to Cone 6 they become glossier and the breaking effect of the colours becomes more pronounced. These glazes require 2-3 coats for full coverage. Please read the label on each glaze for application instructions.
Click here for the downloadable Spectrum 1400 Shino Series Colour Chart.
Note: 1 Gallon size is available for special order through our website (we do not stock). Delivery timeframe is approximately 2 weeks. Product and shipping are to be paid at time of order. 10lbs Dry and 5 Gallon Pails are also available for most Spectrum glazes, contact us for ordering details. At this time we do not take backorders for Pint sizes (must be in stock to order).
0
stars based on
0
reviews