1136 Royal Blue
1136 Royal Blue is a glossy and opaque royal blue glaze. All of the Spectrum Stoneware 1100 Series glazes are compatible with each other, giving exciting effects when layered with a few coats of each glaze. Gallon and 10lbs (dry) sizes are special order
Article number:
1136 Pint
Availability:

In stock

(5)
1136 Royal Blue is a glossy and opaque royal blue glaze from Spectrum's 1100 Series - Cone 4/6 Opaque Gloss Glazes series.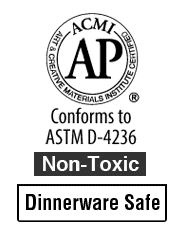 Spectrum's 1100 Series Glazes are formulated to produce reactions during firing which give very interesting and beautiful effects. The final appearance of the glaze is dependent on firing temperature, glaze thickness and the composition of the clay body being used. All of the Spectrum Stoneware 1100 Series glazes are compatible with each other, giving exciting effects when layered with a few coats of each glaze.
Reactive Effects
Variety of Colours & Surfaces
Compatible for Limitless Layering Combinations
Cone 5 (Manufacturer's Recommended Firing Temperature)
The colour sample shows the result of applying 3 coats of this glaze to white stoneware and firing to Cone 5 in an oxidation atmosphere; different results should be expected in reduction and/or if using a different colour clay body. Due to the sensitive nature of these glazes, Cone 5 specifically is the recommended firing temperature.
Please read the label on each individual glaze for specific application instructions from the manufacturer.
Click here for the downloadable Spectrum 1100 Series Colour Chart.
Note: 1 Gallon and 10lbs (dry) sizes are available for special order through our website (we do not stock). Delivery timeframe is approximately 2 weeks. Product and shipping are to be paid at time of order. 5 Gallon Pails are also available for most Spectrum glazes, contact us for ordering details. At this time we do not take backorders for Pint sizes (must be in stock to order).
0
stars based on
0
reviews